Toshiba Low Voltage Motors
---
Contents:
Motor Design and Quotation Form
---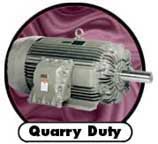 Toshiba Quarry Duty Motors are built extra tough to handle the special stresses of quarry applications. The shafts are tougher, the bearings have extra protection from contamination, and the insulation is over-spec'ed to handle the stresses produced during start-stop operations on crushers and conveyors.
---

Toshiba EPACT motors meet federally mandated efficiency levels with our continued commitment to Quality and performance. Independent testing has proven that Toshiba motors exceed industry standards for performance and efficiency. The results are consistent with testing conducted in our own NVLAP accredited test lab. Toshiba EPACT motors have a 2 year warranty.
---

The EQP III-841 premium efficiency, extreme duty motor is in-stock, ready for immediate shipment. It is designed using our EQP III-XS motor as a base, but adding many additional features which will extend motor life in extremely severe environments. For the longest motor life in the most severe environments, the Toshiba EQP III-841 is the front runner in its class.
---
The EQP III-XS premium efficiency, severe duty motor is in-stock, ready for immediate shipment. It is designed to address the many special requirements of the continuous processing industry, where motor life and reliability are at a premium. Always ahead of the competition, Toshiba's EQP III-XS is available in the following ratings and loaded with features.
---

Toshiba's EQP III premium efficiency motor line was designed and is manufactured in the U.S. to meet industries' ever increasing need for effective methods of energy conservation and product reliability. The EQP III combines one of the highest overall efficiency levels, plus the highest starting torque-to-current inrush ratios in the industry, with low winding and bearing temperatures
---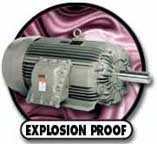 Toshiba Explosion Proof motors are available in 143T- 447TZ frames, and are suitable for the following hazardous locations: Class I, Group D; Class II, Groups E,F & G. The following features are included: Class F insulation system, oversized bearings of vacuum degassed steel, and non-sparking brass flinger
---
Motor Design and Quotation Form
Click here to fill in our form so that we can help choose a motor for your application.